CCNJ Plant Operations Management Workshop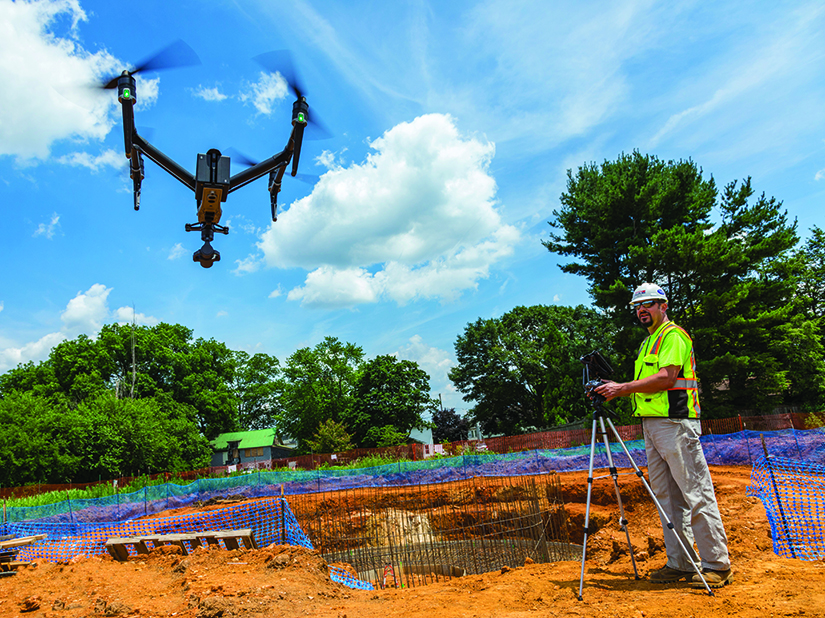 GES is a proud sponsor of the Chemistry Council of New Jersey's Plant Operations Workshop scheduled for Wednesday, December 5, 2018 at the Double Tree by Hilton in Princeton, New Jersey. The one-day event addresses on a range of topics facing plant management staff from the chemical and energy industry sectors. Workshops include discussions on media relations, site security, asset management, and environmental regulations among other issues.
GES will also be presenting on the use of Unmanned Aerial Vehicles (UAV), better known as drones, as an innovative method for data collection within a plant environment. GES' Dr. Martin Helmke, PhD, PG, (Principal Hydrogeologist) and Daniel Bochicchio (Staff Environmental Scientist) are scheduled to take the podium from 9:45-10:30 AM. The session abstract and speaker bios are provided below.
Drones or UAV: Capabilities & Applications for the Rapidly Evolving Data Collection Platform
The Unmanned Aerial Vehicle (UAV) or "Drone" marketplace has exploded in the past 2 years as industrial grade equipment and training became readily available at marketable prices. Today, real-time data collected via drone is rapidly turning into actionable information, which allows users to react more quickly and efficiently to potential site issues. However, there are challenges as with any "new " technology and its advance, such as evolving regulatory requirements, rapidly improving capabilities and misuse of technology issues. GES will present information regarding the capabilities, evolving regulations and potential applications in the plant environment for this powerful data collection platform. With the power of drones that fly multiple sensor types, including thermal infrared, essential infrastructure inspection and monitoring is an emerging "must-have" tool for plant and environmental managers. GES will present examples where drone data collection has replaced more traditional inspection, measurement, estimating and surveying methods to support rapid and accurate decision making.
Martin Helmke, PhD, PG
Principal Hydrogeologist, UAV Services
Professor of Hydrogeology, West Chester University of Pennsylvania
Dr. Martin Helmke is a Principal Hydrogeologist with GES, a Full Professor and Emeritus Department Chair at West Chester University, and President Elect of the Pennsylvania Council of Professional Geologists.  He is an FAA-licensed drone pilot with 21 years of experience applying fixed-wing and multi-rotor Unmanned Aerial Vehicles (UAV) for scientific research and commercial clients. Dr. Helmke currently serves as scientific advisor to the GES UAV services program, responsible for identifying new ways to apply UAV technology to better serve clients.  Commercial UAV projects have included chemical production facilities, pipelines, natural gas wellfields, petroleum distribution and storage centers, CERCLA sites, landfills, groundwater remediation systems, ecological assessments, and hazardous materials incidents.  Dr. Helmke is a licensed Professional Geologist in the state of Pennsylvania.  He holds a PhD in Geology and Water Resources from Iowa State University and an Environmental Science and Geology Degree from Antioch University Ohio.
Daniel Bochicchio
Staff Environmental Scientist, UAV Services
Dan Bochicchio is a Staff Environmental Scientist focused on delivering innovative technologies in support compliance monitoring and field data collection programs through the application of UAV technologies. His recent UAV projects have included HDD pipeline installation monitoring, terminal surveying for SPCC planning, and thermal mapping of underground coalmine fires and remediation systems. He is also working on project fulfillment lifecycle and data governance models used to train project managers on implementation of UAV work.  Prior to joining GES, Mr. Bochicchio led the development of the drone program at West Chester University. He later founded Skybernetics, a start-up company specializing in the deployment strategies of corporate UAV services for technical research and commercial purposes. Mr. Bochicchio is a Geologist-in-Training in the state of Pennsylvania. He earned his Master's degree from West Chester University in Geoscience and his Bachelor's at Appalachian State University in Environmental Geology.