GES Technical Expertise on Display in 2018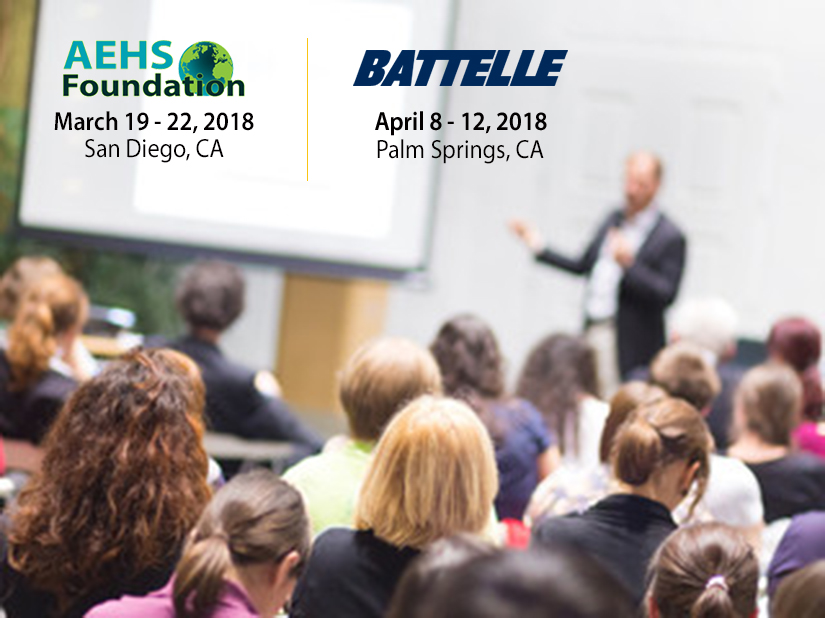 GES, a national environmental consulting firm, is pleased to announce its upcoming slate of technical papers and presentations for a pair of nationally attended environmental conferences in 2018. 
GES team members will be on hand for the Association for Environmental Health and Sciences (AEHS) Foundation's 28th Annual International Conference on Soil, Water, Energy, and Air being held March 19–22, 2018 in San Diego, CA.  The annual event seeks to bring the environmental science community together by providing a forum to facilitate the exchange of information of technological advances, new scientific achievements, and the effectiveness of standing environmental regulatory programs. In total, four GES abstracts were selected for technical presentations at the conference. GES will also exhibit (Booth #6) at the three-day event.  GES presenters include:
Kevin Michael Lienau, PE | Remedy Performance Reporting – Driving Remediation System Optimization and Site Progression| Platform Presentation
Don Lundy, PhD, PG | A Method to Estimate Historical LNAPL Volume and Mass Losses from Composition Changes | Platform Presentation
Chris Mulry, PG | LNAPL Management: Strategy Development through Investigation, LCSM, and NSZD | Poster Presentation
Kevin Michael Lienau, PE | Technical Approaches to Reduce Remediation Costs at Former Refinery – A Success Story | Poster Presentation
GES will also provide technical content at the Eleventh International Conference on Remediation of Chlorinated and Recalcitrant Compounds hosted by Battelle, April 8–12, 2018 in Palm Springs, CA.  Battelle's Chlorinated Conference is one of the world's largest industry meetings on the application of innovative technologies and approaches for characterization, monitoring, and management of chlorinated and complex sites. This year, all five GES abstracts made it through the very competitive selection process, earning the opportunity to present at the conference. GES experts will also be on hand in the Exhibit Hall (Booth #504) to meet and answer questions. The accepted presentations include:
David Cleland, PG and Tom Wright, PG, CHg | An Evaluation of Electronic Field Data Collection Solutions: Lessons Learned | Platform Presentation
John Daniels, PG, CAPM and Mark Motylewski | Full-scale ISCR and EISB to Treat Chlorinated Solvents in Unsaturated Soils at a Former Chlorinated Solvents Manufacturing Plant | Platform Presentation
Kevin Michael Lienau, PE | Remedy Performance Reporting – Driving Remediation System Optimization and Site Progression | Platform Presentation
Stephen Betts | Performance-based Remediation: Cost-to-Objective Achieved Utilizing In-situ Reductive Remediation of Chlorinated Solvents | Poster Presentation
Rich Evans, PE | When a Temporary Solution Becomes a Long-term System | Poster Presentation
For more details about these events and other upcoming conferences, visit our Events page.