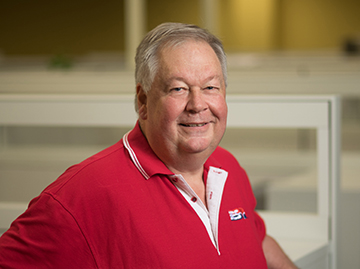 Bill Butler is a Vice President tasked with leading the company's business development and marketing programs. He also heads up GES' national industrial and commercial sector programs with a focus on enhancing project execution, communication, and client development as part of the firm's diversification strategy. Bill has been critical in helping to secure and manage several national client accounts, expanding GES' technical capabilities and geographic footprint. 
Bill joined GES in 2011 and has more than 40 years of direct industry experience as a Program Manager and Account Executive in the fields of environmental consulting and remediation. He has provided leadership and facilitated environmental programs ranging in scale and complexity throughout his career. This includes roles such as Principal-in-Charge for a multi-national petroleum client; Program Manager for a global aerospace and defense contractor; and Account Executive for a high profile, $80 million dredging, dewatering, and landfill project. 
Bill currently resides in upstate New York and is active in several local, professional industry associations including the Business Council of the State of New York and the Chemistry Council of New Jersey. He also serves on the Board of Directors for the Clifton Park Water Authority. He received a Bachelor of Science in Accounting and Master of Business Administration from Monmouth University in West Long Branch, New Jersey.
Did you know?
Bill is not one to shy away from rolling up his sleeves and getting involved whether at the office or at home. These days that means hitting the road to spend quality time with his three young grandchildren. Bill has also taken an active role in his community through youth sports where he helped bring five national Babe Ruth World Series Tournaments to his town, serving as the tournament's Host President on four occasions. The two-week, championship event requires months' worth of planning, fundraising, and logistics coordination as the local community hosts the nation's top ten teams from across the country.