GES' Mulry and Bennett Contribute to Latest ITRC LNAPL Guidance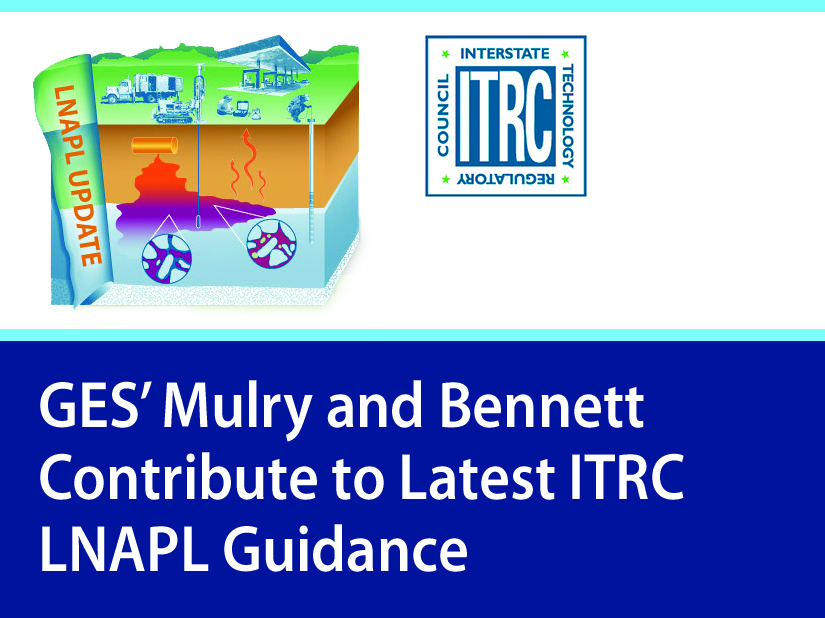 Chris Mulry, PG, Senior Vice President of Major Projects, and David Bennett, Principal Hydrogeologist contributed to the recently released industry guidance document titled LNAPL Update. The web-based document was developed and published by the Interstate Technology and Regulatory Council (ITRC) and is intended to build upon and supersede previous ITRC Light Non-Aqueous Phase Liquids (LNAPL) guidance documents.
"The information in this updated guidance includes new developments in the science of LNAPL, LCSM development, LNAPL transmissivity, and natural source zone depletion," shared David Bennett. "The guidance includes discussion of developments of a broad range of state-of-the-art investigative tools and their applications aimed towards improving decision making at LNAPL impacted sites."
The LNAPL Update provides a systematic framework to develop a comprehensive LNAPL Conceptual Site Model (LCSM) for the purpose of identifying specific LNAPL concerns; establish appropriate LNAPL remedial goals; select remedial technologies that will best achieve the LNAPL remedial goals for a site; and evaluate the implemented remedial technologies to measure progress toward an identified technology specific endpoint. Beginning May 2018, ITRC's LNAPL Update Team will host an online 3-part training series with a focus on LNAPL site management techniques and approaches. Featured courses include:
Build upon your Understanding of LNAPL Behavior in the Subsurface (Part 1)

Develop your LNAPL Conceptual Site Model and LNAPL Remedial Goals (Part 2)

Select/Implement LNAPL Technologies (Part 3)
"The team involved in the internet-based training recognized that training materials like case studies, site attributes, statistical analyses, and baildown analysis tools had outpaced the original guidance documents," explained Chris Mulry, PG. "Our goal was to incorporate these improved understandings and tools in a succinct, user-friendly format. One ancillary benefit was the updated state agency surveys that also indicated the increased breadth of understanding and use of this guidance.  Readers will be apprised of tool use via relevant case studies."
ITRC is a public-private coalition with membership from across the United States, working to reduce barriers to the use of innovative air, water, waste, and remediation environmental technologies and processes. The industry group develops documents and training intended to broaden and deepen technical knowledge and expedite quality regulatory decision making while protecting human health and the environment.
Groundwater & Environmental Services, Inc. (GES) is a member of ITRC through the group's Industry Affiliates Program (IAP). Mulry and Bennett serve on the LNAPL Update Team responsible for the research and technical writing behind the latest guidance document. GES professionals have been actively engaged in a number of other ITRC technical teams in 2017/2018. These include:
Remediation Management of Complex Sites (completed November 2017) - David Bennett

ITRC Fractured Rock Team (completed early 2018) – Rich Evans, PE and Chris Mulry, PG

Remediation Technologies and Methods for PFAS - Rich Evans, PE

Evaluation of Innovative Methane Detection Technologies - Brian Deering

Stormwater BMP Performance Evaluation - Kevin Lienau, PE

Implementing Advanced Site Characterization Tools – Chris Mulry, PG
Click here for more information about ITRC.