GES' Steve Butler Recognized by NJWEA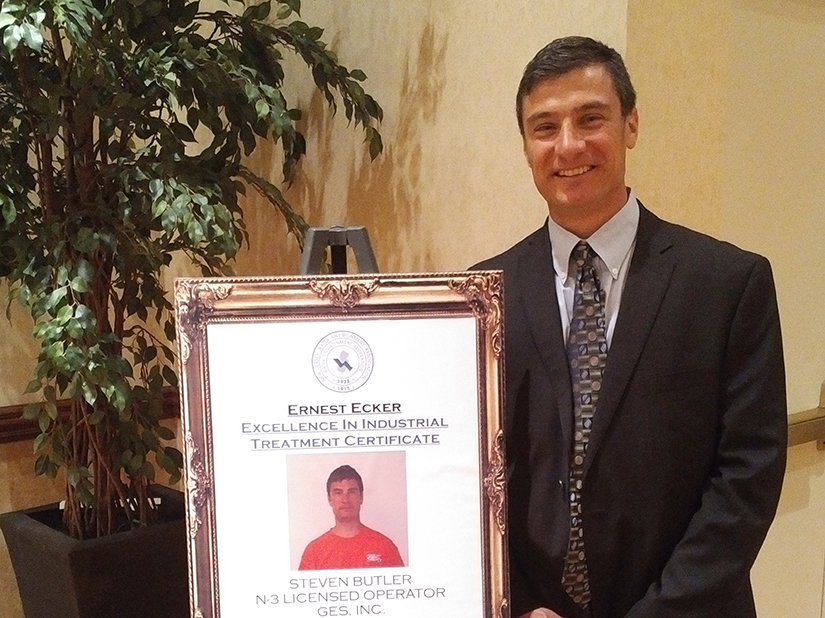 The New Jersey Water Environment Association (NJWEA) and the Water Environment Federation (WEF) presented the 2017 Excellence in Industrial Treatment Certificate to GES licensed operator, Steve Butler. Steve was on hand to accept the award at the annual NJWEA President's Award Reception held in Atlantic City, NJ.
"Steve recently celebrated his 15th year at GES and has been an integral part of our team's success," shared and David Zailik, LSRP, New Jersey Operations Manager. "This award highlights the dedication and commitment to his trade over the years and recognizes his outstanding efforts and skills with operating and maintaining a challenging and unique system."
Steve serves as the lead operator for GES' 24/7 operations, maintenance, and monitoring (OM&M) services engagement at  an  award-winning, industrial groundwater remediation treatment plant in northern New Jersey. GES served as the design engineer for plant upgrades after significant damages to the mechanical system were incurred during Hurricanes Sandy. The rehabilitation included installation of two geothermal units to replace the damaged plant building HVAC heating and cooling systems. The geothermal units have reduced the operational utility expenses by approximately 25 percent.