Krauhs Joins GES as Houston Area Operations Lead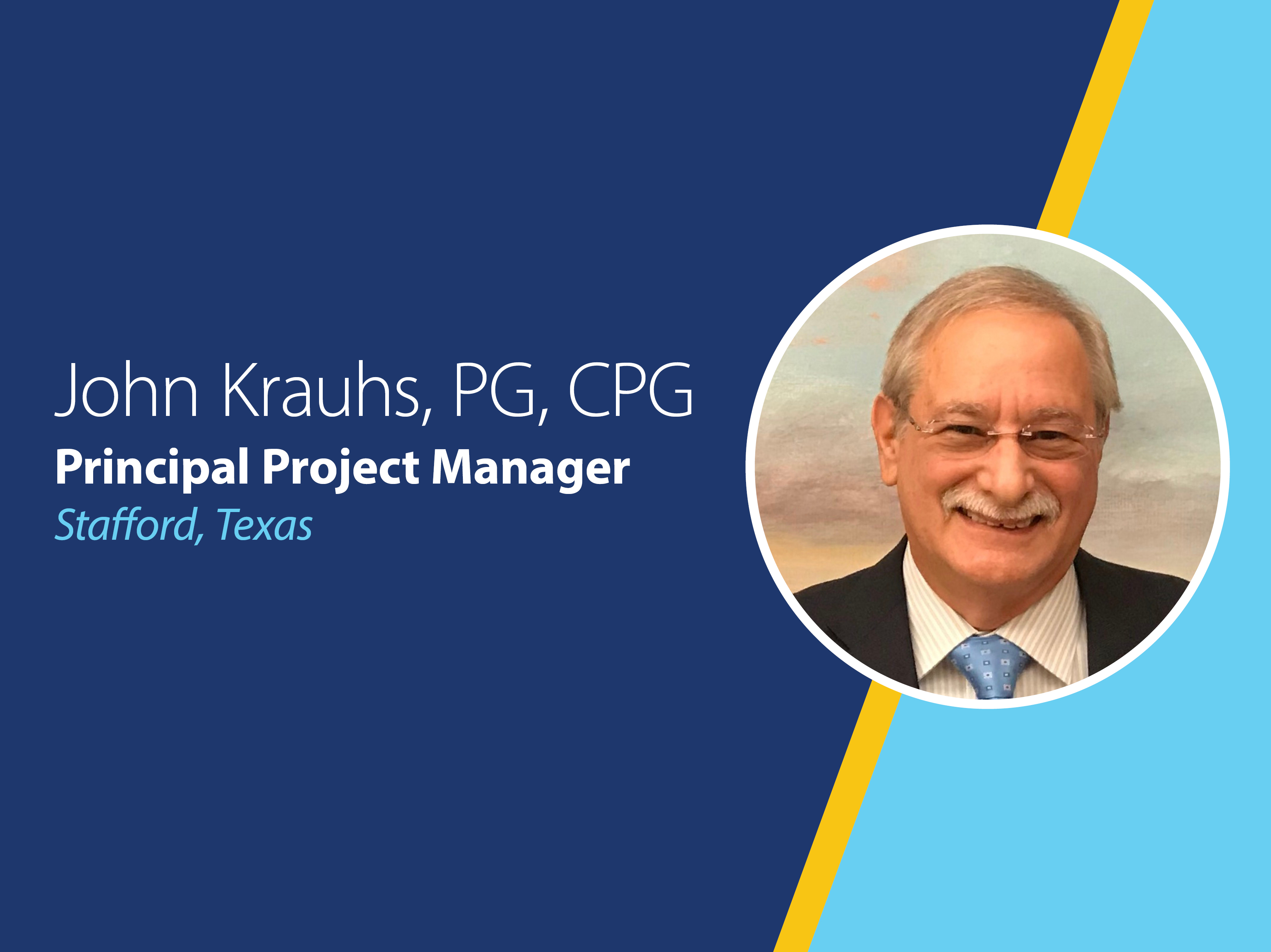 GES is proud to announce the hiring of John Krauhs, PG, CPG, as a Principal Project Manager and office lead for our Stafford, Texas operations. John will serve in a senior project management and technical adviser role while providing day-to-day leadership for GES' Houston-area client programs and personnel. 
"We are excited to add John's expertise and leadership to our Stafford office," explained Terence McManus, GES West/Southwest Regional Operations Manager. "John's experience and strong regulatory background and relationships in Texas will be an asset to our clients and our project teams as we continue to expand our service offerings across the state."
John possesses more than four decades of diverse industry experience, including 26 years in environmental consulting and 14 years in the petroleum industry. He has specialized expertise in the assessment and remediation of multi-sector industrial sites in Texas under the jurisdiction of the Texas Commission on Environmental Quality (TCEQ) and the Railroad Commission (RRC) of Texas, and as a prime contractor to the TCEQ and the Texas Department of Transportation on their managed sites. John has a strong record of health and safety management, leading the development and implementation of site-specific health and safety plans and adherence to client safety protocols. He has served as the technical lead for investigations and the development of regulatory closure strategies under the TCEQ Risk Reduction Program, Petroleum Storage Tank program, the RRC Statewide Rules, and Operator Cleanup Program. Throughout his career, John has excelled in the management of diverse technical teams for complex compliance, assessment, and remediation projects focused on quality project deliverables and favorable client outcomes.
John is a licensed Professional Geologist (PG) in the state of Texas and is a Certified Petroleum Geologist (CPG) issued by the American Association of Petroleum Geologists (AAPG). He is an active member in industry groups, such as the Texas Association of Environmental Professionals, Society of Petroleum Engineers, and AAPG. He received a Bachelor of Science in Geology from Indiana University in Bloomington, Indiana.