Thinking Inside the Right-of-Way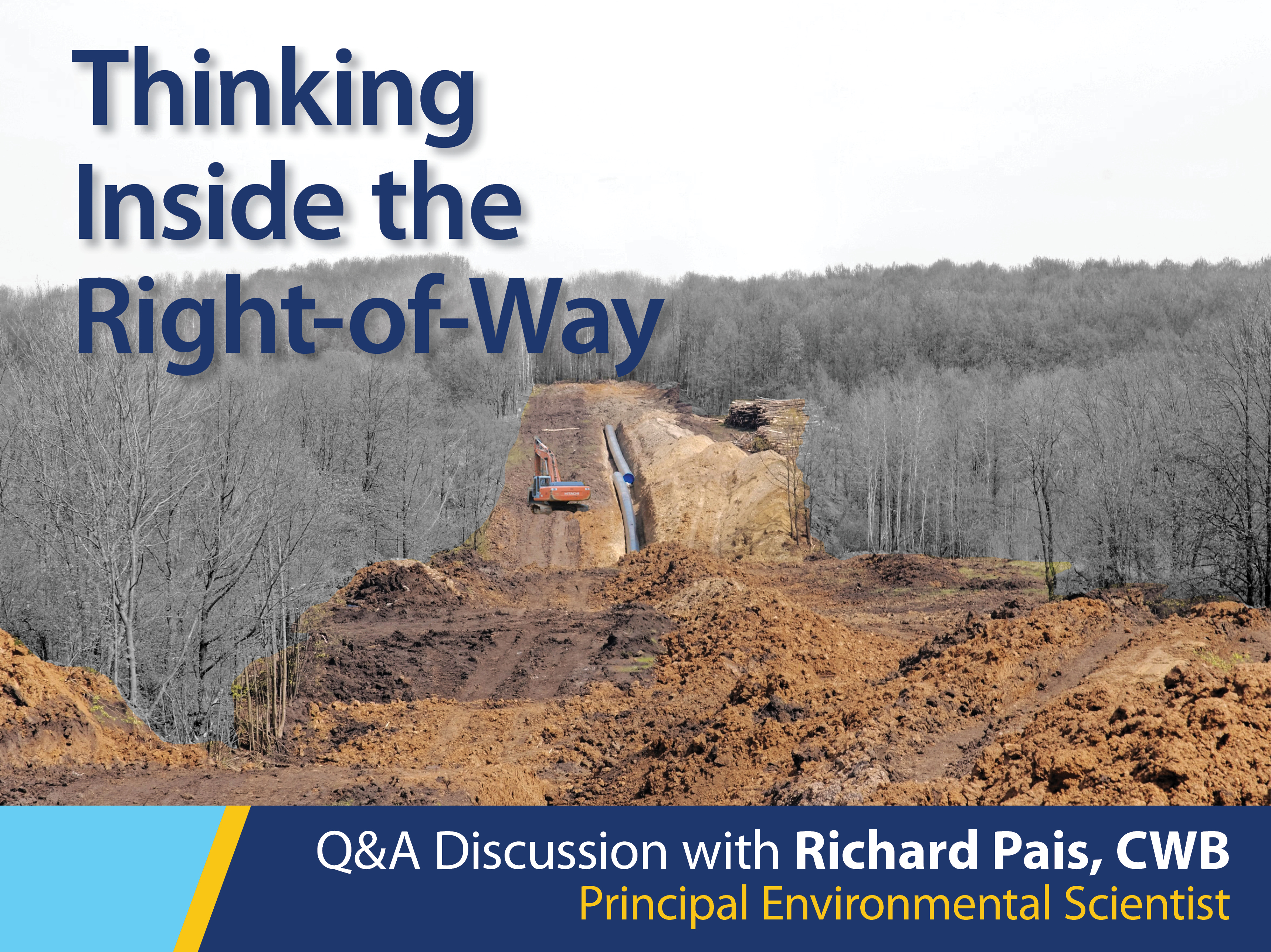 How Ecological Design, Construction, and Restoration of Pipelines can Accelerate Project Schedules and Improve Profitability
A Q&A with Richard Pais, CWB, Principal Environmental Scientist and trusted adviser to the energy sector.
Recently, GES' Richard Pais was asked to serve on the Midstream Pipeline Partnership, an industry group led by The Nature Conservancy with a focus on developing pipeline construction guidance for corridors in high-risk and environmentally sensitive settings. The group is comprised of representatives from several major oil, gas and utility companies. Rich brings more than 30 years of diverse industry in his role as a technical adviser to this group. His experience ranges from academic research and teaching to environmental consulting where he has participated in dozens of energy project developments throughout the eastern US.   He is a Certified Wildlife Biologist with expertise in rare, threatened, and endangered species studies as well as design, permitting, and construction of wetland mitigation projects. Early in his career, Rich played an integral role in the development of the Maryland Conservation Act, developing, implementing, and teaching ecologically sensitive land planning and construction techniques. Rich draws upon this unique background to help energy clients carefully balance their business objectives with stakeholder concerns, driving towards mutually beneficial solutions for land conservation and economic growth. 
Q: You currently contribute as a technical adviser to The Nature Conservancy's Midstream Pipeline Partnership. Can you provide some background on the group and some of the issues and concepts that are being evaluated?
RP: The Nature Conservancy has funded studies by the Massachusetts Institute of Technology (MIT) and Harvard University to identify what development activities will have the greatest potential impact on natural habitats in the eastern United States over the next 25-years.  Their research determined that forest fragmentation and disturbance to natural areas from pipeline and utility corridors pose a significant threat to biodiversity in the region. The Nature Conservancy is now bringing together representatives from some of the largest midstream energy and utility companies in the country to help evaluate construction practices that have the potential to minimize or eliminate the long-term effects of pipeline corridor development in environmentally sensitive areas.
Q: Why might a pipeline project owner be interested in adjusting their current practices and implementing low impact construction methods in ecologically sensitive right-of-ways?
RP: It's important to point out that we're looking at this as a process for decision making and construction rather than a one-size-fits-all solution. The key for pipeline project owners is first identifying and making a committed effort to avoid and minimize disturbance to habitats that may suffer significant impacts from construction. When this happens early in the project planning process, a commitment to implementing low impact construction methods, where feasible, has the ability to expedite the regulatory approval process while also helping to avoid conflict with public interest groups who may be in opposition to a project. In practice, the techniques we have applied have minimized earth removal and associated erosion control costs. This approach also reduces the need for off-site restoration and mitigation while also helping to protect and keep rare forest and wetland species in their native habitat. So, you can see that these practices, when implemented correctly, really have the ability to generate significant value for a given project. 
Q: You point out that owners should look at this type of construction approach as a process rather than a singular solution. Why do you make that differentiation?
RP: There is great variability in the nature and even greater variability in the socioeconomic influences on any long linear project. Too many projects are delayed, re-routed, or required to use impractical construction procedures that may be viewed as a singular solution. For example, forest interior dwelling bird species require hundreds of acres of unbroken forest to complete all their life-cycle requirements.  Yet not all forest is the same.  The age, species composition, aspect, slope, soils, and land use history all effect the suitability of a forest to support sensitive species.
Identifying the quality of a forest that will be impacted by pipelines or utility corridors and then proposing the ecological construction techniques to be used in addressing the species of concern in the specific area where this is needed is a process that allows an energy company to become the expert on the issue.  If we do not incorporate this process into the design and construction of future projects, then we can be certain that environmental groups and regulatory agencies will develop one-size-fits-all permit conditions that increase the cost of construction without effectively adjusting for the uniqueness of each landscape.
Q: Can you provide some insight on what this process might look like for a project owner? Who are the stakeholders involved in this process? 
RP:  Sure, the initial routing and studies of wetlands and rare habitats should become an iterative process where the ecologists in the field are included in the planning, design, and construction process.  Currently, we have a linear process where each discipline functions without much interaction or knowledge of what is important, practical, or feasible.  I have witnessed countless wetlands over marked in the field because the delineator is afraid to "miss" a wetland.  The result is higher construction cost through minimizing the limits of disturbance (LOD) area and extraneous restoration efforts that will result in years of regrading, reseeding, and potential permit violations.  The wetland scientist does not understand the construction cost and restoration cost surrounding his decisions.
Q: Are there certain regions or site-specific conditions that lend where this process works better than others? 
RP: Yes, eastern deciduous forests with low to moderately steep slopes.  The larger the forest tract being disrupted, and the steeper the slope, the more important it is to minimize impacts to trees, roots and established vegetation.
Q: What are some of the obstacles that could prevent this approach from being implemented successfully?
RP: In many cases, existing regulations have been the primary barrier to implementation.  They tend to reinforce the concept of clearing the right-of-way (ROW)/LOD of all vegetation and then attempting to restore the land using native seed mixes.  In some scenarios, permits will constrict the limit of clearing in sensitive areas, but there is no recognition of changing the techniques of construction to prevent damage
Q: Is this an entirely new practice that we are talking about here? Are there cases where this type of approach has been implemented effectively and accepted?
RP: The concepts we are discussing are used extensively by arborists, landscape architects, and ecological restoration specialists on a range of land development projects.  All we are really doing is applying these concepts and techniques to pipeline construction.
Q: Do you have any parting thoughts or advice for pipeline project owners who are interesting in shifting towards an eco sensitive approach?
RP: Environmental advocacy groups who often oppose these projects are well aware that most energy companies seek only to satisfy permit requirements. This enables these groups to influence and position the regulatory agencies against the energy companies.  Proposing sound eco-sensitive construction practices in areas where there are genuine environmental concerns will facilitate more favorable public meetings and regulatory negotiations, thus accelerating the permit approval process. Employing this approach also puts the energy company in the position of "the expert" instead of the target.