GES Celebrates 35th Anniversary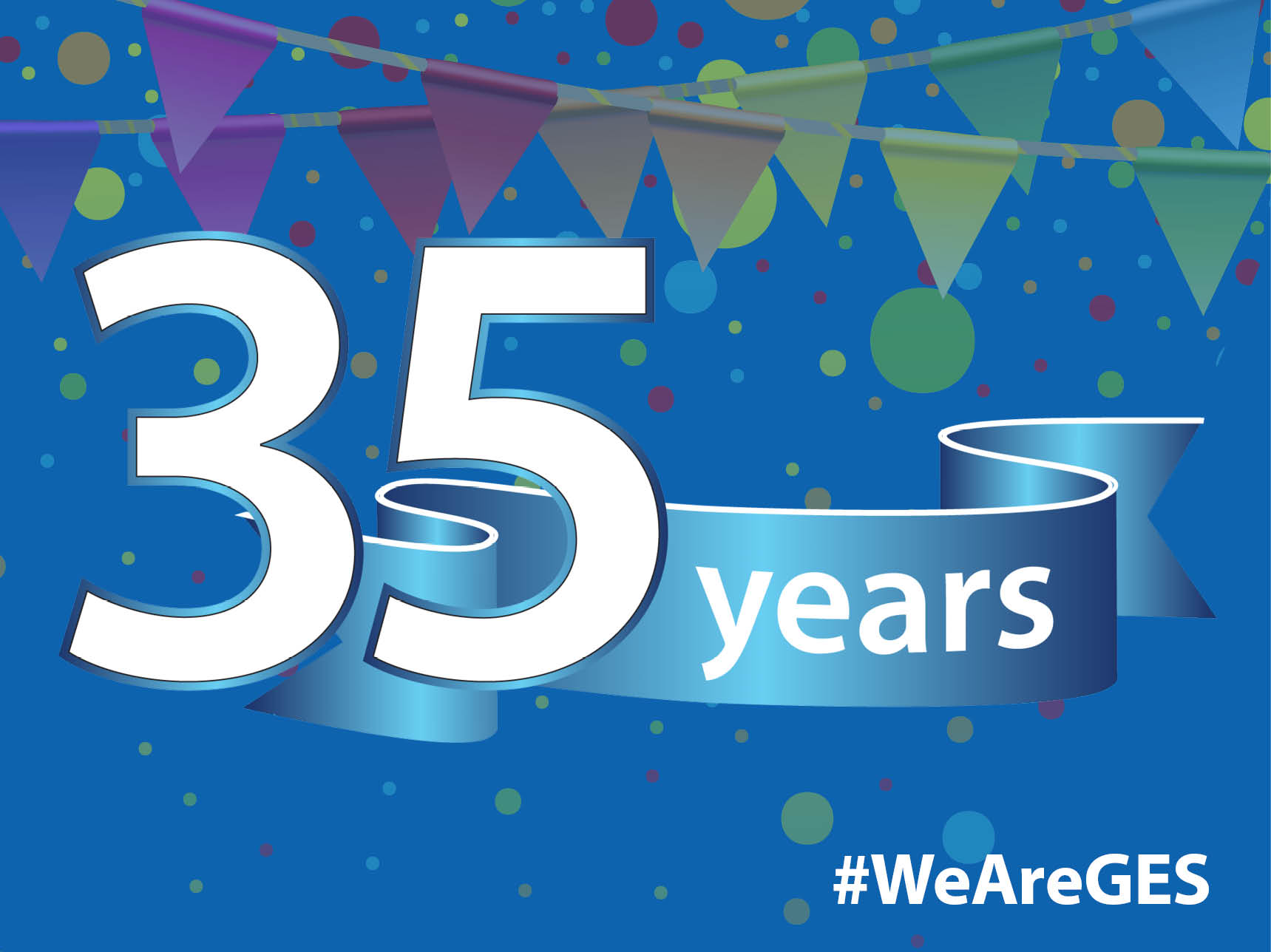 GES is celebrating our 35th anniversary today, February 5, 2020. Our co-owners, Tony Kull and Barry Myers, established Groundwater & Environmental Services, Inc. (GES) on February 5, 1985. Thirty-five years later, with nearly 500 employees and 29 offices nationwide, it's amazing to think that GES began with only two rooms in a small office building. By 1986, GES had seven full-time employees in that building in Glenmoore, Pennsylvania, which was rural farm country back then. At the time, there were three shared computers. The sample refrigerator was located in a workshop about a mile down the road where Barry's drilling equipment was kept. During that time, Barry was still very engaged in running his BL Myers Brothers Drilling company. However, he managed to get involved in GES from time to time. Barry was referred to as "the gentleman well driller." Few people at GES today could picture Barry working behind a drill rig.
In the early days at GES, there was not a large distinction between job roles, except that Tony Kull was in charge of most of the reports, and he was even allowed to handle tools back then. With great camaraderie, the small group did whatever it took to complete the projects from drilling wells, collecting samples, writing reports, installing systems, and sometimes working late while enjoying pizza. All maps were drawn by hand, and final maps were done with ink pens on mylar. There was one plotter for hydrographs which was pretty unique at the time. Also, some of the early holiday parties were hosted at employees' homes and included clients.
While GES has developed positive business relationships with countless new clients over the years, it is very special to note that we still do work for many of the initial clients that we started with in 1985! That is a testament to GES' strong consulting and project execution capabilities, and our core value to always work safely.
To bolster our growth and success, GES acquired four companies over the last 20 years that include, Environmental Systems & Technologies (ES&T) in 2000; H2O Environmental, Inc. (H2O) in 2004; EnecoTech, Inc. in 2005; and most recently, KBA EnviroScience Ltd. in 2017.
As we celebrate this milestone anniversary, GES continues to plan strategically for many more successful years ahead. We are thankful for our dedicated, hard-working employees and clients. The recent ER projects are another example of our employees' commitment to excellence.
Thank you all for making GES what it is today!
"When we started GES 35 years ago, we did so with no expectations in mind other than to use our hands-on, quality solutions to solve our clients' problems, and maybe have a little fun along the way. Our goal was always to provide our people with a safe work environment that promoted independent thinking, innovation, and professional and personal growth. I remain in awe of all you who work every day to make GES what we are today. Thank you."  
- Tony Kull
"It's been a great ride for 35 years with a few ups and downs along the way. We couldn't have been this successful without the employees and team that we have. Thank you to all for your hard work and dedication every day!"
- Barry Myers
"We look forward to continuing our strategy of client, project, and service-line diversification. Special thanks to all of our employees who work hard every day to make our environment cleaner and a more sustainable world for all of us."
- Ed Van Woudenberg