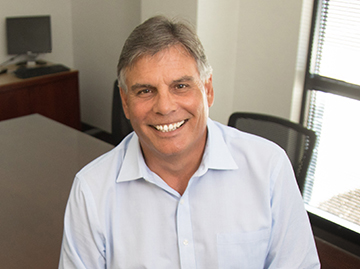 Anthony Kull is the Chairman of the Board, and is a founding partner of GES. He launched the company in 1985 with a vision to build the kind of company he had always wanted to work for—a company that embraced teamwork and encouraged creativity in pursuit of solving our clients' toughest challenges. Tony continues to provide strategic direction for the firm's growth, working across stakeholder groups to preserve the principles and values that have guided us to where we are today. He continues to provide hands-on leadership and technical support at the project-level, and he remains actively involved in the management of our long-term client engagements, ensuring continuity of service and high quality project results. 
Over the course of his more than 35-year career, Tony has developed a strong understanding of both the scientific and business management sides of the environmental industry. He began his career as an Associated Geologist where he was able to work on challenging remedial investigation and construction projects across the United States and New Zealand. This early experience prepared Tony for the innovative changes in investigative techniques and remedial alternatives that transformed the industry and led to the founding of GES. Tony has managed projects in a wide range of settings, including hundreds of retail petroleum sites, bulk storage terminals, petroleum pipelines, and refineries.
Tony is a licensed Professional Geologist in the state of Florida and holds a New Jersey certification as a Subsurface Evaluator. He graduated with a Bachelor of the Arts degree in Geology. Tony is based in GES' Wall, New Jersey headquarters office.